Tory Tea mug, by John Tams Ltd, 1995, from All Of This Belongs to You at the V&A. Photograph: Santiago Arribas
The V&A has done something daring and launched an exhibition about the public sphere to coincide with the general election. Unfortunately, it mirrors the election result currently forecast by opinion polls. All of This Belongs to You is the artistic equivalent of a hung parliament, confused and confusing and without a decisive message.
Only the title lives up to the title. As you enter the V&A, a big illuminated sign boldly declares: "All of This Belongs to You." It resembles an artwork by Martin Creed or Nathan Coley but was in fact knocked up by the show's designers. It's an apposite statement at the start of this election. For the collections of the V&A and other public museums really do belong to us, and their future is in our hands. The very concept of publicly funded free museums, like the NHS, relies on a belief in large-scale state spending that seems unlikely to survive the £30bn worth of cuts planned by the Conservative party.
Before David Cameron lays plans to vengefully punish the V&A if he wins on 7 May, don't get too excited – for this totally fails to be an exhibition about the unique value of public museums or a defence of their role in society. Instead it is a series of interventions dotted about the permanent galleries that are sometimes interesting, more often slight, but never really add up to a vision of the public museum or its usefulness.
Artists tend to adopt a self-consciously "critical" attitude to museums, a sceptical approach that originated with radical conceptual artists like Hans Haacke who started examining the funding of art galleries back in the 1970s. The installations scattered through the museum are full of that kneejerk anti-museum spirit. Far from defending this collection that "belongs to you", they ask predictable questions about it. Ecological concerns are raised by Natalie Jeremijenko, whose impenetrable Phenological Clock amasses climate data about this corner of South Kensington. Meanwhile, Jorge Otero-Pailos has hung a latex sleeve stained with the dust on the inside of the V&A's cast of Trajan's Column in the museum's atmospheric Cast Court.
The dust reveals a pattern of Victorian brickwork which shows how the tall column has been built around a chimney. It's suggestive that the best way the Victorians could support this artwork was with a chimney – that symbol of the industrial revolution. Otero-Pailos wants us to be troubled by this (why didn't the creators of the V&A see they were implicitly celebrating climate damage?) but surely the chimney was just a useful engineering solution to a spectacular artistic challenge.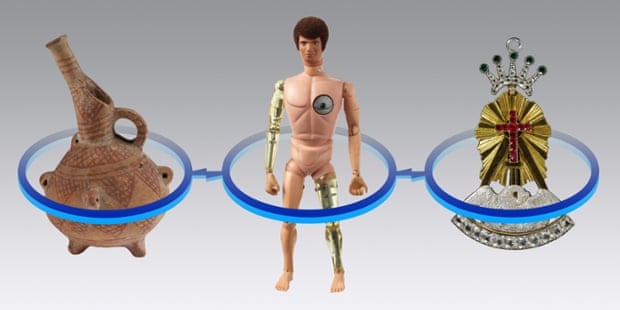 James Bridle's Five Eyes, from All of This Belongs to You.
Nevertheless, this soaring ghost of a chimney floating next to Trajan's Column is the most impressive artwork in the show – and the only one that intimates something vivid about the history of this museum. Elsewhere, school desks clutter the Renaissance gallery making a point I do not comprehend, while James Bridlehas installed five vitrines full of V&A archival files and assorted objects among historic tapestries to tell five near-indecipherably obscure stories aboutintelligence agencies. Why? The culture of secrecy is far more potently symbolised by the smashed Snowden hard drive and laptop lent by the Guardian, if you can find them, in the 20th-century galleries.
There's not much point in getting angry with the artists because the sad truth is that most of their interventions are too slight or silly to be noticed by visitors. This weak show simply fades away among the dazzling fascinations of a great collection. A modern Chinese tracksuit among the treasures of imperial China? It just looks daft.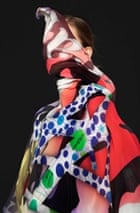 WikiLeaks Scarf, 2011, by Metahaven, from All of This Belongs to You. Photograph: Meinke Klein
All of this really does belong to you, but far from a stirring celebration of public spaces and public collections, of the public sphere and the taxes that pay for it, this shaggy dog story seems uncertain what politics even is. It namechecks a range of fashionable causes and icons – Wikileaks and Julian Assange make more than one appearance – without being able to create eloquent art out of any of them. The intellectual dissipation and self-indulgence of this ramble through today's public chatter is perhaps a true picture of Britain as it went into the 2015 general election – full of talk about a wide range of issues but lacking any coherent consensus or conclusion.
Lost in the V&A, I envy those Victorians who had a Gladstone, a Disraeli or a William Morris to believe in.
All of This Belongs to You runs at the Victoria and Albert Museum, London, from 1 April to 19 July