'As if colour is pouring down toward the floor as much as rising from it' … Christina Mackie's Tate Britain Commission, The Filters. Photograph: Graeme Robertson for the Guardian

Nine 12-metre-long tubes of coloured silk and linen fabric hang from just below the skylights in the front half of Tate Britain's Duveen gallery, almost reaching the floor. Beneath each of them stands a shallow, circular pool of dye. Earlier, each of these tubes had sat in these pools before being hoisted aloft on pulleys. It looks as if the colour is pouring down toward the floor as much as rising from it, like the stems of lilies. Far above our heads, the fabric tubes open out with a flourish, reminding one of trumpets and funnels. The effect is a bit spoiled by a couple of tubes that are a little more complicated, the fabric hanging from what look like giant Ikea lampshades.
Some of the tubes dangle into the dye; some terminate just above the surface. Others stop before they reach it, like swimmers afraid to take the plunge. The complications give the whole thing a pleasurable sense of an arrested movement.
The shallow pools of dye are dark mirrors. It's good to stare down into their reflections. Over time the dyes will begin to crystalise. Dust has begun to float around on the surface, like scum on a pond.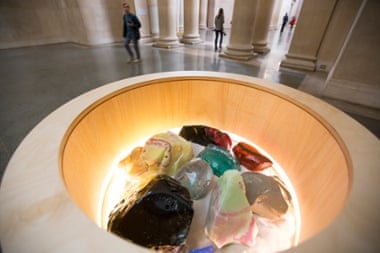 'Molten glass lumps, like children's marbles' … Christina Mackie's The filters. Photograph: Graeme Robertson
I enjoy the ephemeral, non-monumental aspect of Christina Mackie's The Filters, but my imagination can't go far with it. The two further elements to Mackie's work, in the rotunda that interrupts the sweep of the space, and in the further space beyond, weaken rather than develop her idea. An object like a piece of factory or laboratory equipment is parked to the side of the rotunda. Looking purposeful, it's a fanciful piece of kit, in the childish bright hues of modern industry, contrasting the softer colours of the dyed fabric. I don't think it does anything.
Beyond this, further back in the Duveen (as if all this wasn't already too much) is a circular column of wood, which turns out, when you peer down into it, to contain a display of molten glass lumps. Colours twist through the glass, like children's marbles.
Maybe we're meant to infer that these coloured glass lumps are turned into pigment or dye by the machine in the rotunda, and then used to stain the hanging fabrics. But it's a stretch. Mackie might want us to think about colour's associativeness, and the philosophers – from Newton to Wittgenstein – who have thought about colour. I thought about nylons drying over the bath.
We've come to expect a lot of these commissions. Mark Wallinger recreated Brian Haw's protest peace camp on Parliament Square. Martin Creed kept the entire space empty, except for runners hurtling through it. Fiona Banner dangled an airplane in the space and, in last year's commission, Phyllida Barlow turned it into slapstick. Take that, she said to the Duveen.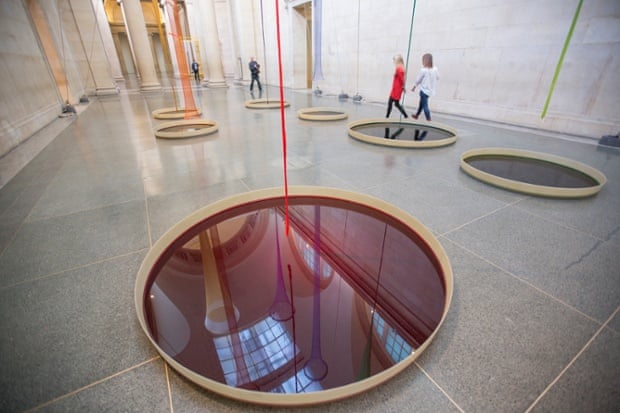 Dip-dye … another look at Christina Mackie's The Filters. Photograph: Graeme Robertson
I felt echoes here of Daniel Buren's Monumenta commission for Paris's Grand Palais. I remember the extreme delicacy – almost invisibility – of certain Fred Sandback works (who drew in space, measured and tested it, with nothing more than stretched skeins of wool). Mackie's work feels neither grand nor modest enough, dissipated somehow and overcomplicated.
Not all artists are best suited to this sort of scale. It isn't just the size of the Duveen that is a challenge. It is also its formality and order, which feels very masculine. It's good to counter that and work against it. Developed out of a work Mackie presented in Chicago last year, The Filters is a kind of painting in space, but it feels transitional and over-complicated. The pleasure slowly fades.