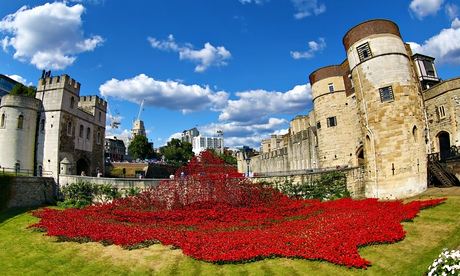 A sea of red ceramic poppies fill the moat of the Tower of London to commemorate the fallen of the first world war. 'Its visual impact is immense,' writes Melanie Henwood.
Jonathan Jones's blog on the Tower of London poppies installation (28 October) claims they are "fake, trite and inward-looking – a Ukip-style memorial". He has somehow – deliberately it seems – missed the point and has chosen to see the poppies not for the symbol of loss and devastation that they are, but as a representation of "a nationalistic tragedy", and argues that it is this "inward-looking mood that lets Ukip thrive". This is cheap, puerile, offensive and utterly misguided.
He was, apparently, perturbed by the popularity of the moat and the masses viewing it. On my visit a week ago I had no impression as he did of "gentle jostling and sense of fun" on the part of the crowd, but rather of people overwhelmed, awed and moved by the scale of loss laid out in the moat. Had he been there for the evening Last Post ceremony, and the daily roll call for the lost and missing, he too might have had a different experience. This is not a jingoistic celebration of the war in any sense.
Jones finds the moat too dignified and graceful as a memorial, and rages against its "fake nobility". He mistakenly believes the horror and terror of war can only be properly commemorated by something equally shocking and vile. The moat should, he opines, be filled with barbed wire and bones. Does that apply to every other war memorial, from Whitehall to town hall and every village's stone cross recording those who did not return? Are their poppy wreaths laid out on 11 November equally "prettified and toothless" memorials? The Blood Swept Lands and Seas of Red installation is a symbol of the massive losses of the first world war, and its visual impact is immense. It is thought-provoking and challenging and there is no inference at all of it elevating British deaths as the only ones of significance. To claim otherwise is deliberately provocative, irresponsible and crass.