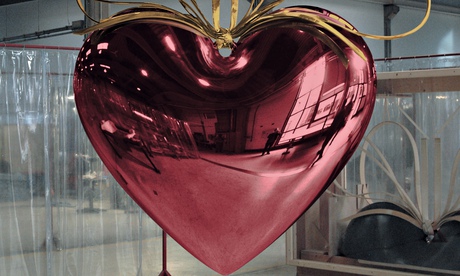 Jeff Koons' Hanging Heart at the Palazzo Grassi in Venice … his version of the sculpture at the Whitney Museum of American Art in New York was attacked
The man who attacked a Jeff Koons exhibition with spray paint joins a long line of pointless art vandals. Why bother to attack art when your gesture will have none of the eloquence of art itself?
I know what someone out there is saying – eloquent? Jeff Koons? And that would appear to be the spraypainter's point of view. Art criticism with a spray can. Big museums put on retrospectives of an artist like Koons – it's disgusting. Grrr. Vandalism's what this kind of art deserves.
I could argue that Koons is a good artist whose work is completely worthy of respect. But since that is not going to convince anyone who sympathises with attacking his work, it's probably more effective to point to some comparable acts of folly, to show how silly it really is to do art criticism with a spray can or a blunt instrument.
We could start with the iconoclasts of ancient Byzantium, who interpreted the Old Testament to mean that all images are evil. Their destruction and banning of icon paintings was a serious setback to Christian art. They were defeated, but if the image had really vanished from eastern Christianity this would have changed the whole story of art. TheRenaissance might never have happened.
Then there was the Reformation, when Protestant mobs felt licensed tosmash any religious art that smacked of popish "idolatry". Britain's art remains much poorer because of their violence. Medieval statues and wall paintings were reduced to rubble or scratched out. Stained glass was shattered. We would be a much lovelier country if all that gothic beauty survived.
More recently, Tony Shafrazi, an art dealer and graffiti painter, took a spray can to Picasso's Guernica. The attack happened at the Museum of Modern Art in 1974. The painting was saved. But who can see anything defensible in Shafrazi's idiotic attack on a modern masterpiece?
Similarly with the vandal (I am not going to recycle his dumb artistic claims) who damaged a Mark Rothko painting at Tate Modern. These people have attacked art for religious, political, or even supposedly artistic reasons – but none of their "interventions" were laudable acts. From Protestant glass-smashers to Shafrazi, they all look like idiots.
Many art attacks, of course, are blamed on mental illness. The examples I have cited here are the other kind that is carried out rationally and deliberately for what might seem cogent reasons. Always, the reasons are inadequate, the action destructive.
We could of course agree that all art is a load of rubbish and deserves to be attacked. But we don't agree any such thing. Art is still widely seen as a mark of civilised society. And as Lord Clark said, people who claim toprefer barbarism to civilisation probably have not tried barbarism for long enough.