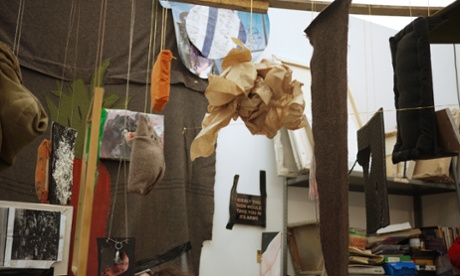 The Artist, 2010, by Laure Prouvost
What will the art of the future look like? In JG Ballard's book Vermilion Sands, femme fatale sculptors create bizarre sound art that resonates inhumanly in the empty warmth of a California-like brain-free zone. I wish I was there. Ballard's pop desert sounds like very heaven compared with the truly catastrophic science-fiction montage that is the Hayward Gallery's Mirrorcity.
What's it about? Well. The poster promises artists from London meditating on "fiction and reality". However, it quickly becomes clear that Mirrorcity is not about London, or storytelling. It is about the digital age. All the artists evoke the information overload, the flood of images and the very short attention span of the technological future we've already arrived at.
I know my attention span shrank by several timebytes as I tried to salvage some shred of interest from this shipwreck of a show. And it does actually start with a shipwreck, an installation by Lindsay Seers that takes the form of a huge upturned galleon, or part of its rotted hull, complete with ornate figurehead. OK. Quite promising. What's inside? Like previous constructions by Seers, this is a cinema. And sadly, like them, it is showing one of her fey and futile video epics.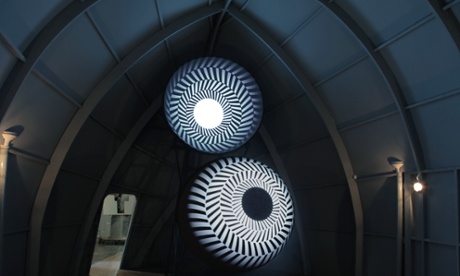 Nowhere Less Now, 2012, by Lindsay Seers
Seers makes films like a student pretending to be Matthew Barney, but her images and garbled soundtrack wash over you in a cascade of silliness. This overlayered rush of nonsense turns out not to be just one misconceived artwork, but the exhibition's very argument.
Frenetic, cut-up, sampled visual – and aural – noise is pumped out in numerous media from video to paintings to just, well, piles of stuff. It's relentlessly awful. Boring texts by Tim Etchells tell us nothing about the modern world. And who gave Laure Prouvost a Turner prize? Her installation here is a daft mix of hanging objects that resembles a poor copy of Annette Messager's far superior contemporary surrealism, and a film so self-conscious it should be wearing a green wig and a T-shirt that says: "I'm crazy, me!"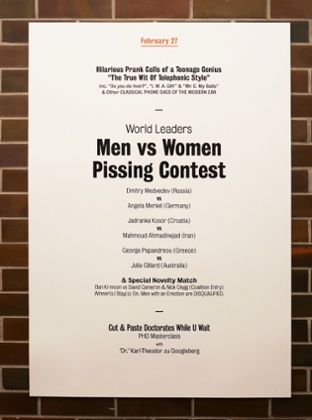 Vacuum Days, 2014, by Tim Etchells
Is the digital age really this awful? Surely not. Or maybe. But the real problem with claiming to identify the artistic tone of this age is that it is too soon to tell.
Significantly, the best art here – by about a thousand miles – and the most incisive about the weirdness of our age is that of John Stezaker. His photomontages made from old black-and-white Hollywood stills genuinely evoke the disorientation and perplexity of the 21st century and its plentiude of visual stimuli.
Yet Stezaker's art has the anchor of history. His fascination with old films is itself nostalgic. So is the method he uses. Photomontage is almost a century old (it was invented in Germany in 1919). Yet it is still a good way to portray the madness of modern life.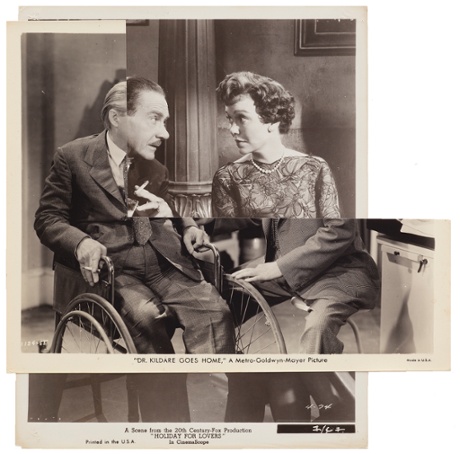 Ventriloquist IX, 2014, by John Stezaker
The truth is that art cannot respond to technological change with the immediacy we seem to expect of it. Photography was all over the place by the mid-19th century, but it took until 1919 for artists to find really powerful ways of using and abusing it. Asking artists to say something eloquent with or about the digital age when they are just as confused as the rest of us about where we're heading is unrealistic. Give them a few decades.
At least, that's my interpretation of this miserable exhibition. The darker possibility is that young artists really are addled by the internet, unable to concentrate or truly believe in anything. Almost all the art here is a dismal mixture of the harebrained, the talentless, the pointless and the incompetent (you will be lucky if you find a working set of headphones for the many sound and video installations).
The darkest thought of all is that London is finished as a creative centre of new art. Is this really the best the capital can produce? It provides evidence for the most pessimistic view of London – that, in becoming a city of posh art dealers, London has lost the raw quality that made it famous for contemporary art in the first place.
Twenty years ago an exhibition of new art from London would have been hot with ambition and energy – whatever people think now of Damien Hirst and Gary Hume and Sarah Lucas and the rest, they were bold and they were brave. There is not the slightest hint of that courage or audacity here.
Mirrorcity may be seen in years to come as the tombstone of London's avant garde.