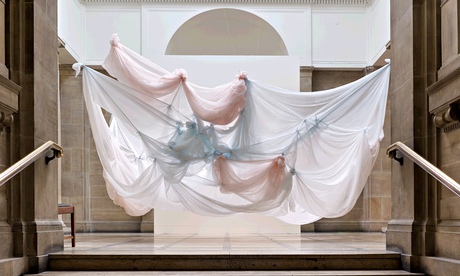 Karla Black's Story of a Sensible Length, 2014 at the Scottish National Gallery, 'a Tiepolo dream made real'. Photograph: Edinburgh art festival
A golden year, a vintage crop: that is the main news from Edinburgh asthe art festival gets under way. The 11th edition is so vast – well over 100 artists – it seems to fill every last cranny, from the sepulchral classrooms of the Old Royal High S chool glowering darkly above the city on its crag to the former veterinary college where the American grandeeSusan Hiller is showing new work. The city's galleries are glutted.
What has swollen the ranks as never before is Generation: 25 Years of Contemporary Art in Scotland, an ever-changing enterprise that spreads all through the country from the Borders to Orkney until November but has its most concerted presence in Edinburgh this August. It is almost impossible to tell where Generation ends and the art festival begins, in fact, as they overlap everywhere and you find the same international names in both.
For Generation includes many artists who were not born in Scotland but came here to work – the English David Shrigley and Luke Fowler, the German Torsten Lauschmann, the Irish-Palestinian Rosalind Nashashibi– and the festival offers many Scottish artists who have thrived abroad, from the visionary draughtsman Charles Avery to the Turner prize winners Douglas Gordon and Martin Boyce.
Art is international: that truth is so self-evident in Edinburgh it seems almost provocative to stage such a collective rebuttal to the idea of going it alone as the independence vote beckons in September. The intense success of art in Scotland – six Turner prize winners and 17 nominees in 25 years, and almost every artist associated with Glasgow – is indisputably influenced by the inbound flight of talent from elsewhere.
And yet I've heard the opposite case: that the "Glasgow miracle", as it's tartly known in Edinburgh, comes precisely from the self-sufficiency of Glasgow's art community, from its camaraderie and mutual support, its great art school and artist-run galleries, its remoteness from the dictates of the London market. Scotland fares better alone.
Certainly the question is in the air all over Edinburgh, most literally inShilpa Gupta's vivid neon work shining out across the city from Calton Hill – Where do I end and you begin. Gupta, not incidentally, is Indian.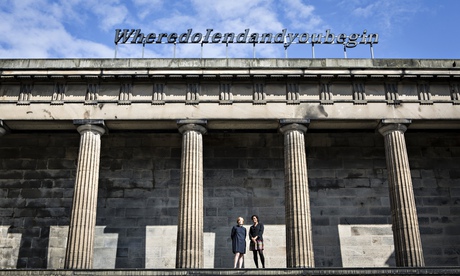 Shilpa Gulpta's Where do I end and you begin, on top of the Old Royal High School. Photograph: Edinburgh art festivalTogether, the Edinburgh shows are encyclopaedic, a dense anthology of Scottish art across many venues. There are many famous moments from the last quarter century. The Scottish National Gallery has recreated an icebreaker of a show by the Clydeside roaring boy Steven Campbell, whose violent and abrasive canvases heralded a dark Romanticism in Glaswegian painting of the 1980s that hasn't entirely gone with his early death in 2007.
Douglas Gordon's 24 Hour Psycho lives again, still twitching its way from frame to frame with agonising slowness, ratcheting the strangeness as it isolates every second's tension. Jim Lambie's wild floor installations, made of multicoloured duct tape that zigzags its dazzling way round every corner, are reprised at the Fruitmarket Gallery.
Karla Black's beautiful rococo clouds of rosy pink and baby blue, a Tiepolo dream made real, hover in the main gallery of the Royal Scottish Academy building, made out of nothing but tissues and cellophane.
And if you never saw Martin Boyce's neon trees and chainmesh pleasure grounds, industrial pastoral made for the hangar of Glasgow's Tramway in 2002, you can see them revived at the RSA. They don't look nearly as good in these neoclassical purlieus, but they were of their place and time in any case.
History runs through it all. Here is Graham Fagen's scuzzy set for an imaginary Scottish play (or sitcom), complete with nostalgic Sex Pistols poster and mixtapes featuring bands of the 90s. At the Portrait Gallery, Luke Fowler's subtly layered film about the Marxist historian EP Thompson – trying to create his own revolution through WEA evening classes in northern England in the 1940s, perpetually thwarted by the lack of books, and students – is an exquisite elegy to a lost dream of society and education.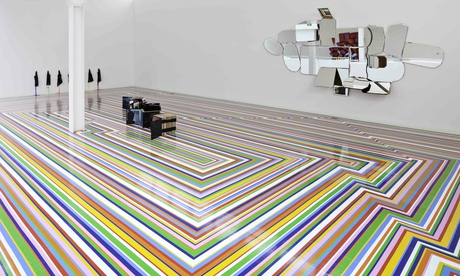 Jim Lambie's installation 'zigzagging its dazzling way round every corner' at the Fruitmarket Gallery. Photograph: Edinburgh art festivalThe amiable art of John Byrne fills the floors above with famous Scottish faces: Billy Connolly, Tilda Swinton, Steven Campbell, and of course his own. Convivial, garrulous, dandified, Byrne's graphic gifts compare with David Hockney but they don't always stretch to actual paintings. His oil portraits are striking for their influences – a pocket history of Scottish art – from Joan Eardley in the images of children to John Bellany in the early self-portraits.
One would rightly doubt the ultimate value of any theory of Scottish art that could possibly be made to stretch all the way from Byrne to the nimble and calligraphic paintings of Richard Wright (another Turner winner), which seem about to detach themselves from the page and float away, or from the exceptional originality of Douglas Gordon in his obsession with good and evil to the glossy postmodern flatness of young artists such as Rachel Maclean and Alex Dordoy, whose inclusion is, I suppose, democratic.
Yet here and there one senses connections. One is a pride in rigorous thinking, in intellectual truth and clarity. You see this in Roderick Buchanan's project for Edinburgh College of Art, an inquiry into the life of the Scottish political reformer Thomas Muir who campaigned to give the vote to Scots who owned nothing and was sent to Botany Bay for his pains. In a back alley behind Charlotte Square, art students are working to pluck the facts of his life from the torrent of history. To spend time among the knowledge and images they have gathered is to leave enlightened.
And perhaps there is a particular vein of humour that one senses most in the works that centre on the Scottishness of Scotland. In Ross Sinclair's evergreen 1996 installation, the kilted artist croons Annie Laurie on twin TV screens in the middle of a fake glen full of stuffed stags and wind-up waterfalls, "Real Life" tattooed, sardonically, on his back.
One misses the antic wit of Alasdair Gray, Martin Creed and the late lamented Ian Hamilton Finlay, however; none of their works are here.
The twin stars of the festival – if viewed through the arrowslit of the London market, say – ought to be Isa Genzken, who represented Germany at the last Venice Biennale and whose post-industrial assemblages are on their usual grimly aggressive form at Inverleith House, and Susan Hiller at Summerhall. But Hiller's film, or son et lumière, as one might call it, orchestrating tales of paranormal sightings with unearthly sounds (all of them natural, nonetheless) and multicoloured screen interference, feels like a repetition of a lifelong theme too far.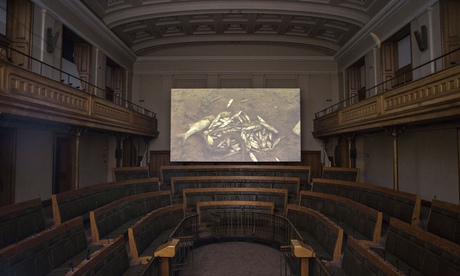 Amar Kanwar's epic The Scene of Crime at the Old Royal High School. Photograph: Edinburgh art festivalFar more captivating is Torsten Lauschmann's marvellous meditation on modern times at the Scottish National Gallery of Modern Art, which opens with a ghostly piano playing roundelays by itself and continues with a mesmerising film on life in the digital age where we wait for the computer to buffer and the coffee machine to digest the data. It is a beautiful work, for all the eeriness evoked, tuning its form to the circle, from wheels and watches to gramophone records, electronic buttons and eventually those scintillating dots that rotate on the buffering screen, as it seems, for ever.
Most moving of all, in a festival that does not shirk personal or political feeling, is Amar Kanwar's epic lament for lost lives in the east Indian state of Orissa, screening in the Old Royal High School. This vast film, scored to the sound of wind and sea, shot in panoramas fringed with leaves and lit by high white moons, tells of a woman whose man has disappeared during industrial assaults on the landscape.
She sees him nowhere and yet everywhere – as the viewer gradually does too – in the body of a tree, in the waving grass, in the pattern of footprints in earth to be torn up for mines. His story is true; Kanwar exhibits the tangible evidence in a startlingly poetic way alongside the film. It will not be lost on anyone who sees it in Edinburgh, in what was once to have been the Scottish Assembly's debating chamber, that the whole tragedy takes place in a contested land.